<SCMP> Nepal-born local student finds success through community college after DSE heartbreak
2019年07月03日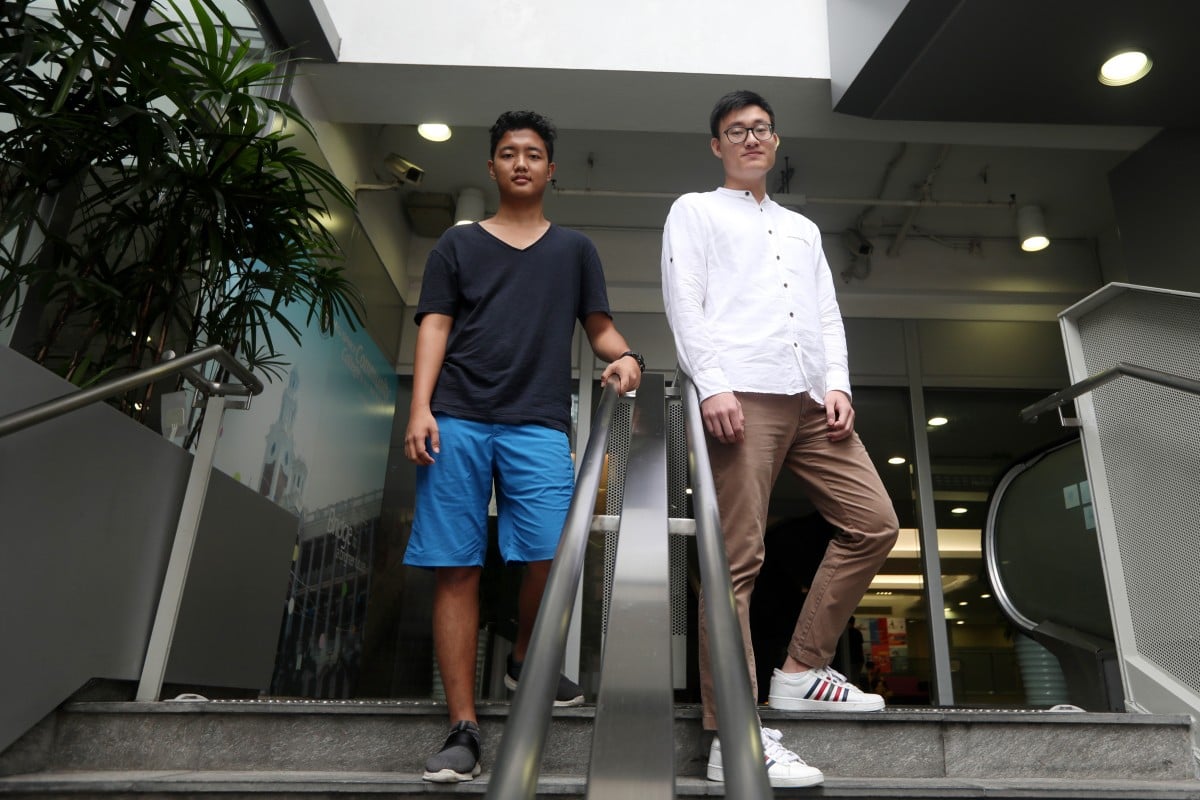 Pun Bishal (left) and Johnson Chan at HKU Space Communict College last month in Kowloon Bay. Photo: Xiaomei Chen
When Pun Bishal received his public university examination results three years ago, he thought he was done for. Instead, his path to a quality education was just beginning.
Born and raised in Nepal, Bishal came to Hong Kong when he was 13 years old to attend high school. After completing secondary school, he was given a conditional offer in 2016 to study where he most wanted: the music programme at Education University.
But then he got bad news: he received fewer than 10 marks in the
Hong Kong Diploma of Secondary Education examination
(DSE) – and the minimum score to enter any degree programme is at least 12. The total score requires a minimum of level 3 for Chinese and English languages and level 2 for mathematics and liberal studies.
Bishal, now 22, attributed his poor grades to the many difficulties he faced adapting to Hong Kong's education system.
"In Nepal, I was always reciting without understanding, and I was very dependent on my tutors or friends," he said.
"In Hong Kong, it is independent. The teacher would teach in class but I had to go home and study by myself."
Pun Bishal (left) and Johnson Chan on June 27 at HKU Space Community College in Kowloon Bay.Photo: Xiaomei Chen
When he visited Nepal after receiving his DSE results – he finally got his wake-up call.
"I saw kids working jobs that professional labourers do in Hong Kong. They would get paid really well to do that job [here]," said Bishal, referring to construction work in his hometown.
He said seeing the child workers without access to comforts like air conditioning, heaters and chairs "tore his heart apart".
"I put myself in their shoes and I had to question what I was doing for six years. It was compassion and empathy that got into me," he said.
Bishal became motivated to excel in HKU Space Community College. He earned a diploma in foundation studies in 2016 and went on to attain an associate degree in legal studies at the school.
This year, Bishal received an offer to study law at City University of Hong Kong and enrolled as a first-year student.
"I think [studying] law is a good investment, not just out of interest but also a way of investing in myself," he said.
Despite the challenges he faced, Bishal is thankful for the privilege of pursuing a quality education.
"I'll stay in Hong Kong for a long time, because it has given me so many opportunities that my country would not have given," said Bishal.
Johnson Chan Tsun-sing, 21, was motivated to study law there after hearing about the experiences of a fellow student.
Chan's DSE scores were too low to qualify for the law programme at the University of Hong Kong, so he enrolled in legal studies at HKU Space CC.
"Studying law helps me with logical thinking and I can practice my communication skills," said Chan.
He hopes to become a speech therapist and believes studying law can help him on his career path.
"I was always bad in language and could not express my opinions in a well-organised way. Studying law has helped me improve on that," he said.
Bishal had some advice for students taking this year's DSE exam-taker: persevere even if your results are lower than expected.
"Determination is something that needs to come from inside of you, it's not something other people can give," he said.
"You are still young, mistakes happen. If you learn from it, then something can be done about it."
Date: 3 July 2019
Source: "SCMP" https://www.scmp.com/news/hong-kong/education/article/3017129/nepal-born-local-student-finds-success-through-community